Embrace simplicity without compromise with Fusion, our hardware abstraction module purposefully built to bridge the gap between your IoT device and the vast realm of Internet connectivity. Powered by readily available components, Fusion allows developers to focus on connecting sensors and actuators to GPIO ports and crafting IFTTT (if-this-then-that) application logic tailored to their IoT device.
While the IoT universe is brimming with various networking technologies, the reality of connecting an IoT device to the Internet is often a complex task. Base examples are frequently oversimplified, and third-party libraries often suffer from bugs, resulting in a steep, troublesome climb to create a stable, secure IoT device. Fusion eradicates this hurdle and goes miles further.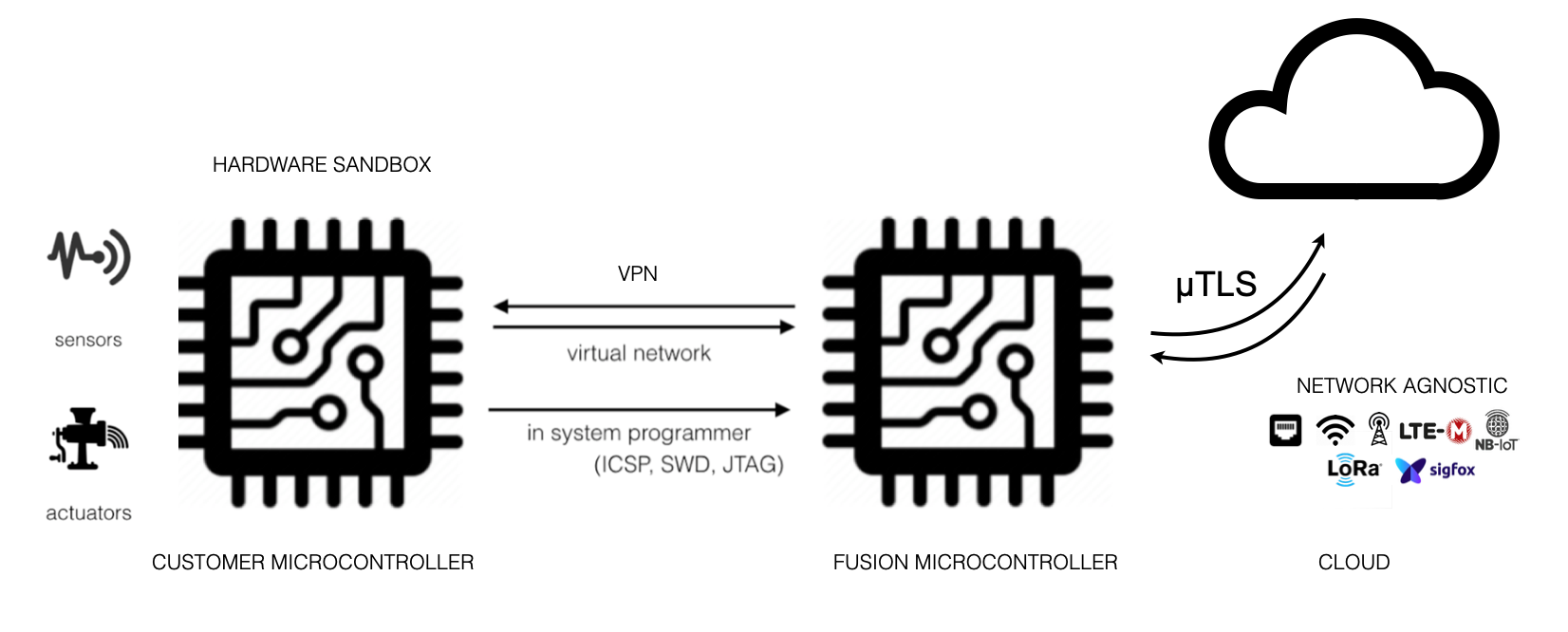 Fusion believes in simplicity and security for IoT development. Secure Internet connectivity should be as easy as attaching sensors and actuators to GPIO pins. Fusion provides an SPI (Serial Peripheral Interface) or SoftwareSerial interface, enabling developers to interact with a virtual network device, as straightforward as sending data and receiving responses from the cloud.
Our Fusion modules are available in multiple designs, depending on your preferred networking technology. Importantly, these modules handle all networking communication securely, employing microTLS (µTLS) when native security is unavailable, effectively crafting a secure virtual VPN tunnel for all device data. In its role as a bootloader, Fusion streamlines provisioning, OTA updates, and firmware erasure for specific micro-controllers. The unique aspect of Fusion is its hardware sandboxing feature, providing a robust shield for the application microcontroller, safeguarding it from external threats and ensuring ultimate security against hackers.
Switching between networking technologies is as easy as swapping the Fusion module, with no code changes needed. This effortless adaptability means you can develop your project using WiFi or Ethernet in the lab and confidently deploy it in the field with alternative networking technology. Future-proofing is integral to Fusion. As new networking technologies emerge, Fusion expands its offerings accordingly. This ensures minimal risk for developers; the interface will remain consistent, meaning programs written yesterday will function seamlessly tomorrow.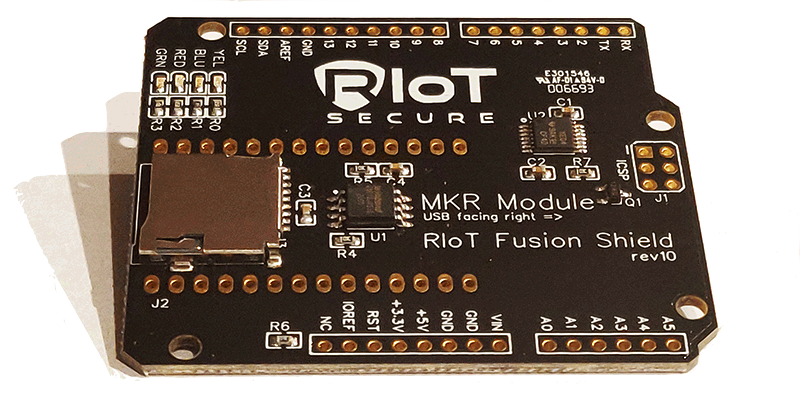 RIoT Secure has developed an exclusive Arduino Shield that's compatible with widely used Arduino devices such as the Arduino UNO and Arduino Mega. This novel product empowers developers to immediately start testing our platform and begin building IoT solutions with the help of readily available components. The most exciting aspect of our solution is the seamless transition from testing to production. Once the development phase is complete, you can shift to production without requiring any software changes to your firmware. This ease of use and seamless integration reduces complexity and accelerates your product development lifecycle, providing you with a competitive edge in the IoT space.
Unveil a new era of secure, simplified IoT development with Fusion.